Industrial dust separator collector cyclone pulse bag filter
Industrial dust separator collector cyclone pulse bag filter
Product Description
Specifications:
1. Main shortcoming is to capture by cyclone
2. Organic whole for cyclone and pulse jet filtration
3. Manufacture cost less
Cyclone pulse bag type Dust Collector
Cyclone structure is simple, take upsmall volume, low investment, easy operation and maintenance, moderate pressure force loss, low power consumption, all kinds of build materials are available. It can be used for high temperature, high pressure and corrosion silicon circumstance. And, It can directly recycling dry particles, etc. Cyclone is generally used to capture more than 5 ~ 15 PM particles, in addition to the dust efficiency can reach 80%, main shortcoming is to capture the < 5 PTM particles. The spiral wind dust catcher with the bag filter combined into an organic whole.
The Filter Structure
Cyclone pulse bag filter is in ordinary cylindrical pulse bag filter on the lower part of the cylinder or set up a certain length of outer cylinder. Inner and outer cylinder section form a relatively independent and sealed cavity, and the tangential inlet on the outer cylinder. A wind pulse bag filter structure as shown as following figure: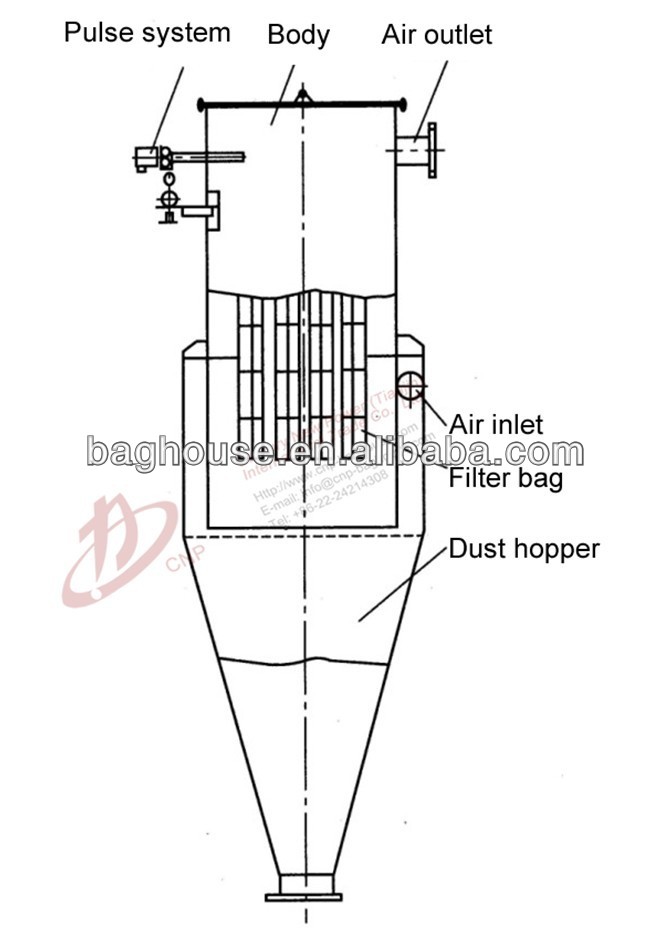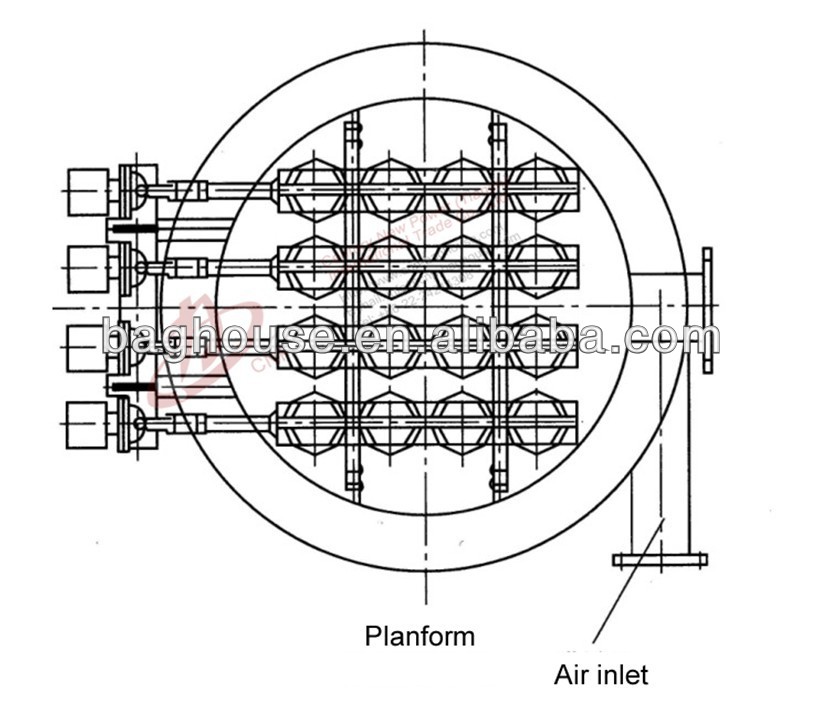 Working principle
Dust gas produce rotation between the inner and outer cylinder, air flow by the linear motion into circular motion, movement down the cone body, to become the outer spiral airflow. Dusty gases produced in the process of rotating centrifugal force, the dust motes throw into the gas wall; Once dust particles is in contact with the gas wall, it will lose inertia force in fall down along the wall under the action of gravity, fall into the hopper. Outer spiral flow in the cone part forming the upward spiral airflow, spiral upward movement. Through the outlet, its effect equivalent to ordinary cyclone. In the bottom of barrel, it is for bag filter air inlet. Rotating imports airflow, it's beneficial to uniform air inlet. Within the cylinder block effect, to avoid the high-speed airflow direct damage to impact of the Filter Bag. A whirlwind of pulse bag filter soot cleaning process on-line ash removal, from the filter bag cleaning the dust down with cyclone dust falling into ash hopper.
Performance and Size
The filter specifications and performance as follows: (1) the length of the filter bag is in 3 m, 4 m, 5 m three kinds of specifications; (2) filter area 66 ~ 304 m2; (3) Air volume of 5000 ~ 50000 m3 / h. (4) the highest operating temperature of 260 ° C; (5) the maximum negative pressure 5 kpa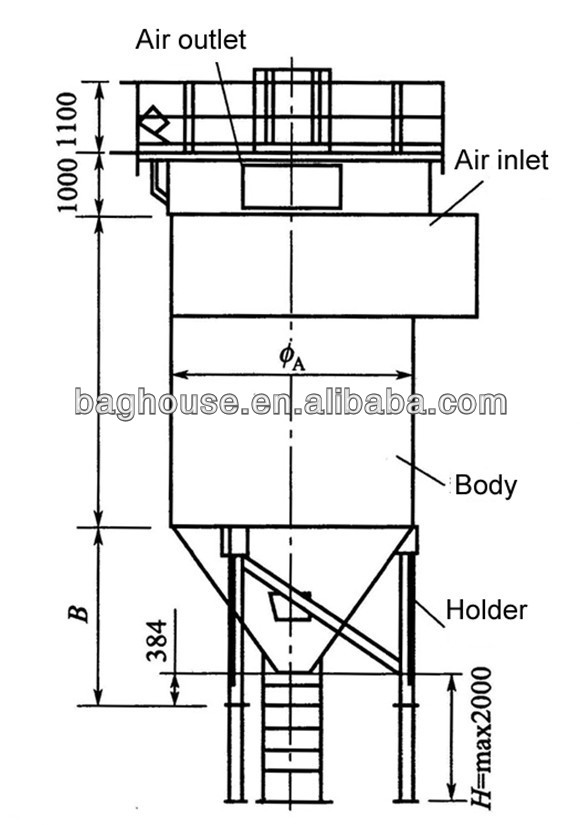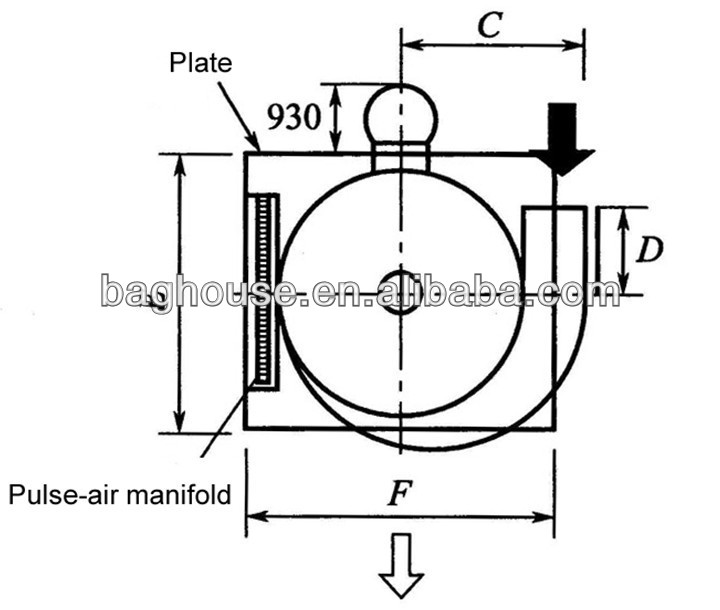 Integration of dust collection Cyclone pulse bag filter, industrial dust separator collector
********************
Please click the following product name to view more product details:
SINGLE BAG FILTER   ROUND PULSE FILTER      Centrifugal Fan    REVERSE BLOW FILTER  DUST COLLECTOR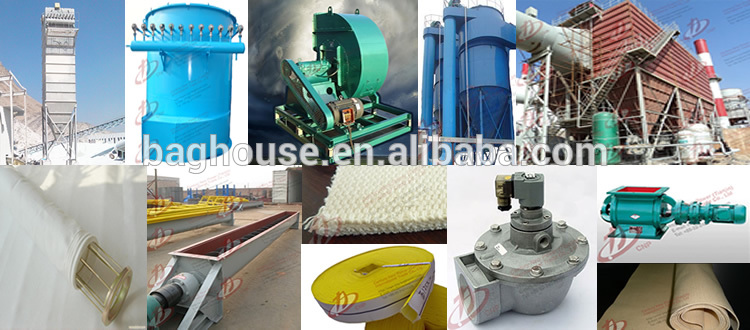 FILTER BAG / FILTER CAGE   Screw Conveyor      Airslide Fabric / HOSE   PULSE VALVE   UNLOADER   FILTER FELT
********************
We provide all kinds of standard export packing for cargo protection. The bag filter will be fixed on the container. The filter bag and cages will be fixed in corrugated box and steel framed structure.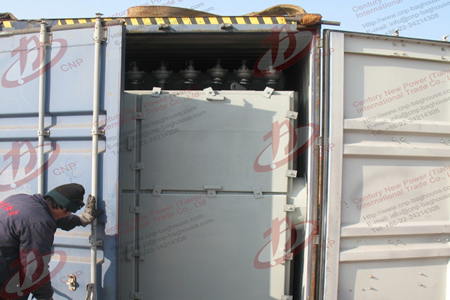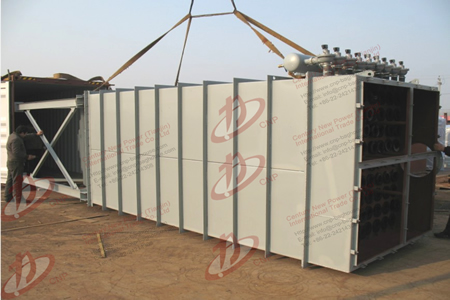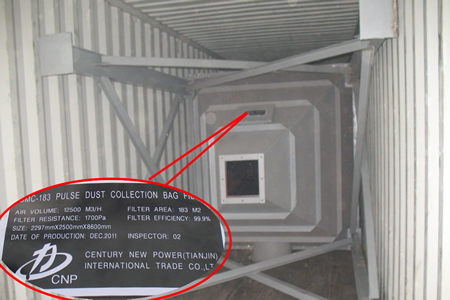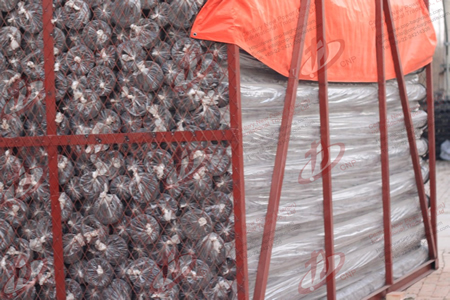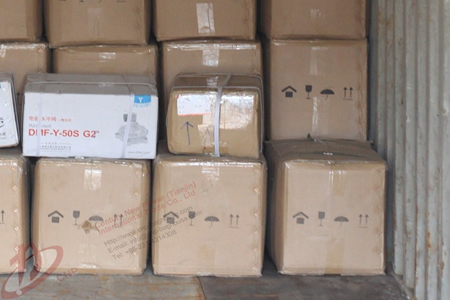 1. Enquiries quickly reply within 24 hours.
1. After-sales service, rapid response, the engineer installation guide. The feedback problems will be replied within 24 hours. We can arrange professional engineers arrived at equipment location within 48 working hours for problem solved.
2. The dust collector design according to the specific condition of dust removal technology. The wind network project design for all system. To be the optimal structure design.
3. The lowest equipment price whole network in alibaba  Welcome to rate of the price. If our price is higher, we will return twice of our quoted price difference to you. Please prompt before sign the contract with us. Due to our good faith principle. 
4. The bag filter equipment over 20 years working life.
5. Associated with equipment spare parts, ensure the replacement parts within 20 years.
6. If accessories stop production or update, to ensure that the replacement parts can be normal use, and keep noticed one year before the spare parts stop production.
7. Ensure easy operation and absolutely no worries about future
CNP Co., Ltd. was founded in 2008, specializes in the field of air pollution control and bag filter, Including engineering design, planning, consulting, equipment research and development, manufacturing, sales, installation and commissioning, as well as production and services.
With national environmental design qualification and qualification certificate of foreign contracted projects, as well as certification of the IS09001, IS014001 and IS018001. Now we have become a much respected users-concerned PM2.5 dust control and industrial de-dusting solutions provider. We do contracting business of municipal solid waste incineration flue gas treatment system, electromechanical integration of environmental protection, total contracting capabilities of new technologies.

Since Five years ago, CNP has always regarded as our responsibility as to "Purify the atmosphere and benefit mankind", adhered to scientific and technological innovation and introduction, digestion and development. So far, we have developed more than 30 sets of series over 400 kinds of specifications of bag filter, successfully undertake and complete total contracting of a variety of types of large, medium-sized dust-removal, desulfurization project.
Achieve an annual output of dust filter area of one million square meters. Products are sold domestically and also exported to nearly 20 countries and regions, including Japan,Korea, Singapore , Australia, USA,Brazil, Russia, Portugal,India, Vietnam , Bangladesh. Products are widely used in metallurgy,boiler,waste incineration , nonferrous metals, building materials, food,light industry, chemical industry, machinery casting,electronics industries and so on.
Based on the high starting point, CNO Co., Ltd., with a positive and upward pioneering spirit, will further create brilliancy as to technological innovation, intellectual property rights and independent brand strategy.
Summary of Information Requested
It is important to us that we find out what is important to you, and offer the most effective solution for your specific dust collector needs. 
To accomplish that, we will need to know as much of the following information from you as possible.
How much CFM will be needed for the Baghouse Dust Collector?
What type of material will you be collecting?  and how much dust do you usually dispose of in a day?
What is the bulk density of the material?
Approximately what air velocity (FPM) are you looking for?
Do you have an Air-to-Cloth Ratio in mind?
What is the Air Temperature projected at the inlet duct?

Is the material explosive?  If so, do you need a spark detection system, explosion vent, or sprinkler system?

How many pick-up points will there be?

What is the static pressure you are projecting for the system?

Are you wanting us to supply the Inlet Duct, Pick-Up Hoods, Installation, or Fan?

Do you want a Rotary Valve or Double Dump Valve, and is a screw conveyor required?

What are the height and size requirements, if applicable?

Do you have a specific filter bag material and construction that you are looking for?
Contact us if you need more details on Cyclone Pulse Bag Filter. We are ready to answer your questions on packaging, logistics, certification or any other aspects about Industrial Dust Separator Collector、Industrial Bag Filter. If these products fail to match your need, please contact us and we would like to provide relevant information.
Product Categories : Filter Bag > Regular Filter Bag