Comfortable cyclone separator price
Product Description
Introduction   
Revolving reverse blowing bag-type filter, It is using rotating air nozzle, one by one to reverse blow Filter Bag to dedust bag filter. It has the advantages of simple structure, stable performance, blow air access convenient and small mainte- nance workload.
To adopt outside filter type principle, we can divide revolving reverse blowing bag filter according to the different distri- bution in the cross section of the filter bag, flat bag filter, rotary blowback bag filter and rotary blowback bag filter ellipses.
Structural Features
Generally, The structure of the rotary reverse blowing bag filter consists of the following basic unit (fission, overall combination)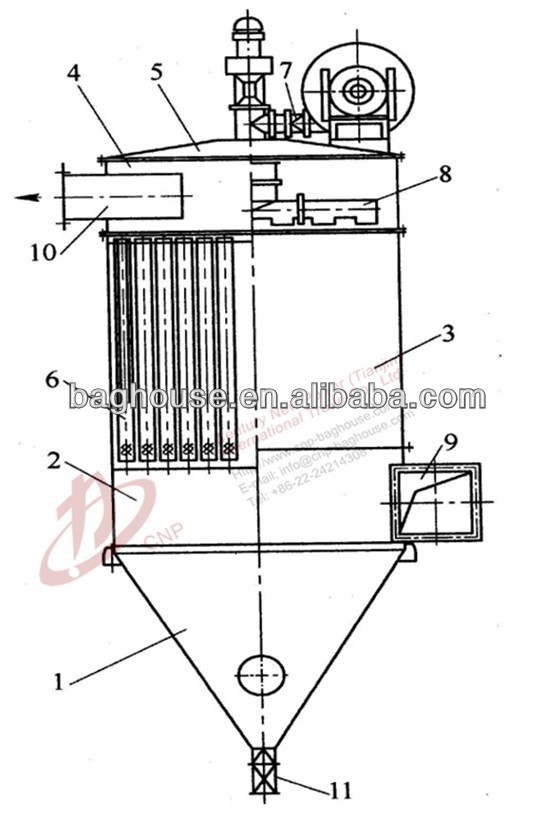 (1) The upper box body.The upper body part includes: the upper barrel, Roof, air outlet and guardrail and vertical ladder. Upper lid for rotary, set a filter bag change and the access manhole;Top lateral lift the roller and seal groove, convenient filter bag replacement compatible with cylinder seal. Guardrail is set on the top cover, along the tube body along a vertical ladder or circular ladder.
(2) The central body.Central body part includes: the central cylinder, plate, filter bag and filter bag positioning plate.Filter bag positioning plate, plate positioning after welding, according to the actual location filter bag find is fixed in a lower casing wall, welding.
(3)The lower box body. The lower box body part includes: the lower cylinder, ash hopper, manhole, base and star discharger;Into the duct positioning welding on the bottom shell.Base welding on the ash hopper directly, the screw bolt hole position according to the positioning of design;Equipment support according to user needs to match.
(4) The blowing system. The blowing system is divided into up and down two forms. Recommended an up blowing system, blow fan is installed directly on the filter head, extraction of atmospheric air or gas net room, circulation organization counter blowing dust; But should pay attention to prevent rain and snow mixed into, pay special attention to counter blowing gas may cause the bomb threat.
Revolving reverse blowing bag filter 1 - hopper 2 - down box body;3 - middle box body; 4 - up box body; 5 - the top cover; 6 - filter bag;7 - the blower; 8 - reverse blowing device; 9 - air inlet; 10 - air outlet;11 - discharge valve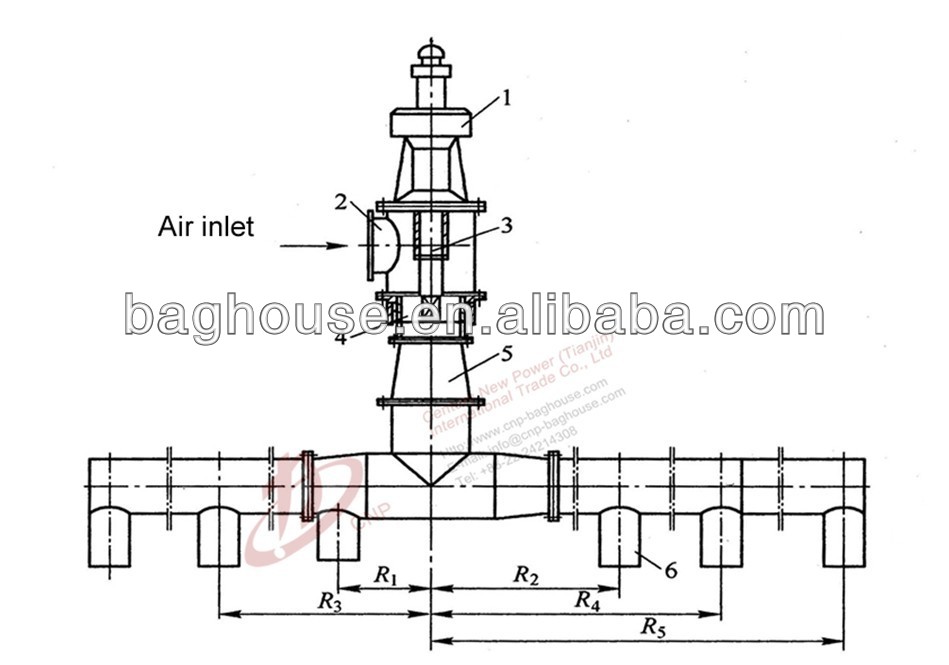 Revolving reverse blowing system: 1 - vertical reducer device;2 - T - pipe; 3 - the shaft; 4 - rotating disc; 5 - the blowpipe;6 - the nozzle
It is simple and compact structure when the ladder type flat bag in cylinder body decorate. The filter area more larger than. Under the effect of the reverse blowing, trapezoidal flat bag has more large amplitude than the round one. Only one single blowing jar, it can shake off most of the dust. It can improve life of filter bag.
Working principle
Dust enter into the Dust Collector by air inlet along the tangent direction, the air flow rotating in the lower cylinder. Under the action of the centrifugal force and gravity, particle size larger dust separation along the wall down into the hopper. And the fine dust rising with air, after radial arrangement of trapezoid (round or oval) filter bag filter, dust be trapped filter bag outside. To purify the gas through the filter bag from net filter bag into the top of the chamber by trachea. Continuously to stay in the outside of the filter bag dust layer thickening, resistance to the set value, automatic start the blower, with enough momentum of blowing, by cantilever duct through a nozzle blow filter bag, filter bag vibration caused by shake filter cake; When the filter bag resistance to lower limit, the blower stop working automatically. In circulation, implementation of precipitator dust, soot and dust collection.
Safety facilities:
(1) The relief valve. When dust catcher to pulverized coal processing and combustible gas, each device design and install two groups of heavy hammer type safety explosion at least.
(2) Ladders, railings and walk filter in the design and installation, must be in conformity with the GB 4053.1 1993 fixed type steel ladder ", "GB 4053.2 1993 stationary steel inclined ladder", "4053.23 GB - 1993 fixed industrial protective railings", "GB 4053.4 1993 stationary industrial steel platform".
(3) The design and installation of dust catcher, scientific temperature control, ensure internal flue gas dust collector temperature above the acid dew point, preventing fouling and condensation bag filter.
Matters needing attention:
(1) Ash hopper, filter chamber shell, clean room for each manhole door. Explosion door, observation hole between the flange should be embedded into the sealed fill material to tighten the bolt, to prevent air leakage.
(2) the ceiling board trapezoid hole should be vertical with the corresponding location on the bottom bracket circle. To prevent skewed gas leak into the frame after the filter bag.
(3) Blow slewing transmission mechanism, it should pay attention to vertical in installation. To up and down the arms swing plane and the mouth of the framework to guide line. Keep 2 ~ 4 mm distance, rotating flexible, tuyere turn-over device, a clash of heads with position properly
(4) The filter bag from the set of filter bag on the outside, should layering compaction, and prevent leak. Then carefully insert into ceiling board,( 55782485,note that don't make the filter bag cut or scratch) tail cone pin inserted into the bottom bracket circle of corresponding location, after the upper guide frame mouth slot neatly aprons with press, pin pressure.
(5) Cover the roof, we should try its rotation flexible. Roof and clean outdoor application rubber seal ring junction, by complete sealing under roof.
(6) after the installation, filling lubricant to the transmission parts. And then try to check the reducer connection whether reverse turn, such as inversion of rewiring immediately, in order to avoid attaint parts.
(7) the transmission parts shall be oiling regularly during the operation, and should be regularly check the jib. Since the reverse blowing control system should be checked regularly, prevent failure.
Performance Parameter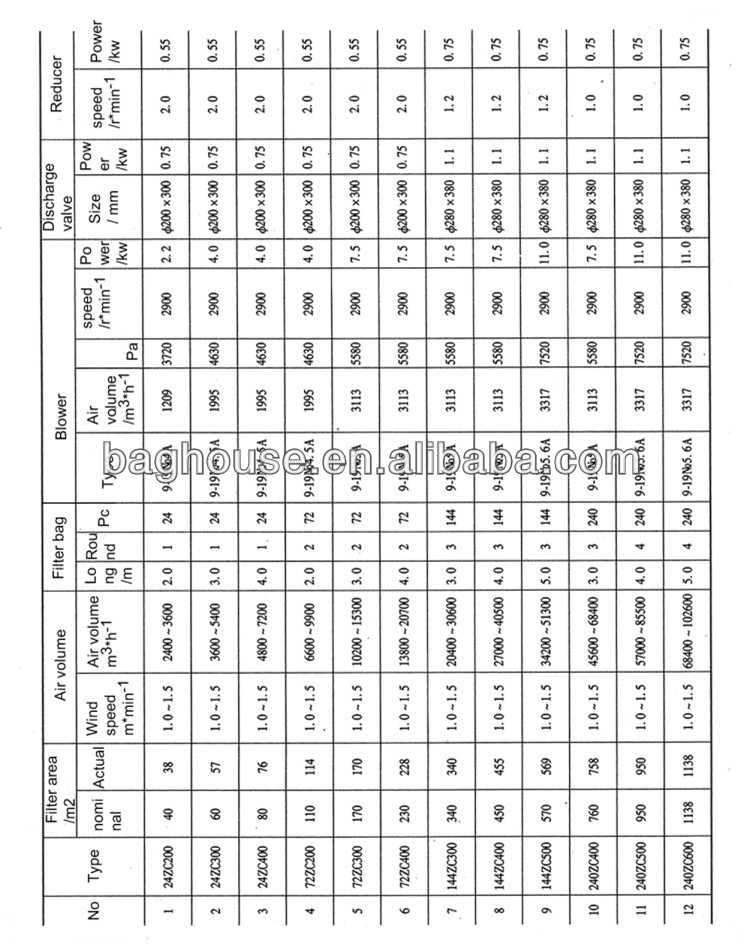 Boundary Dimension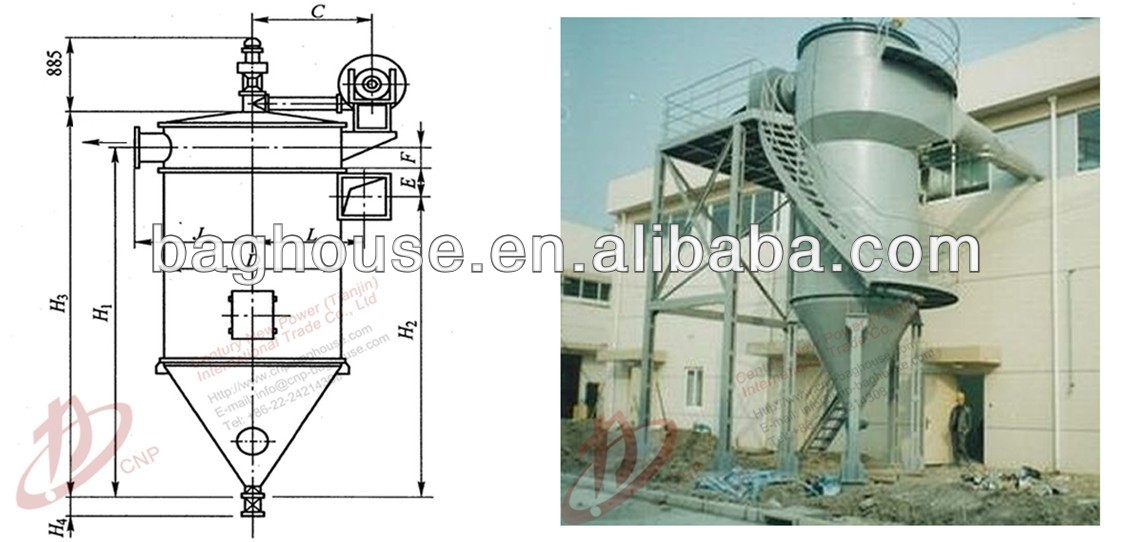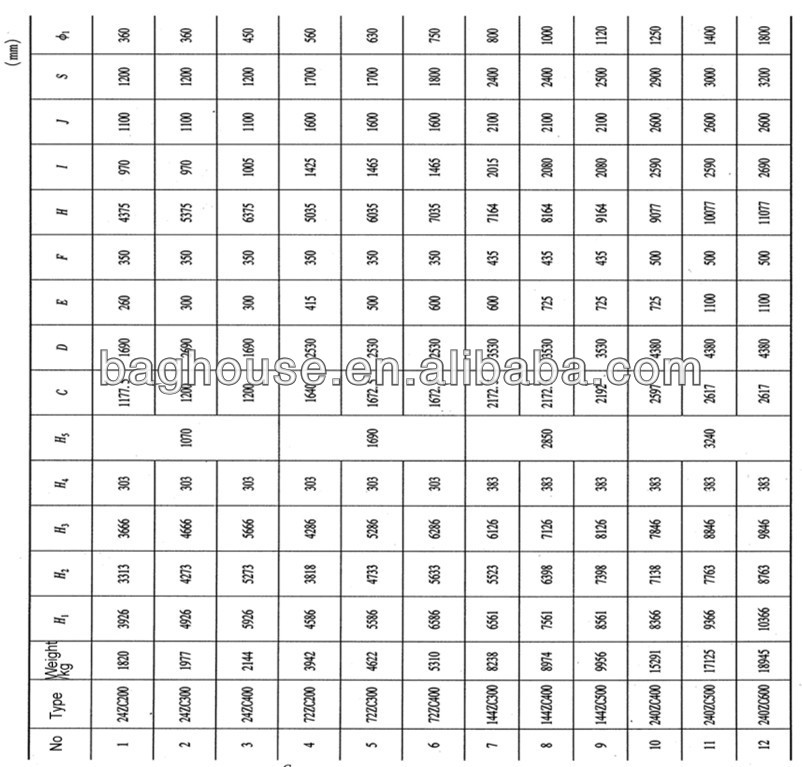 Round type revolving reverse blowing asphalt plant bag filter  industrial   dust collector
********************
Please click the following product name to view more product details:
SINGLE BAG FILTER   ROUND PULSE FILTER      Centrifugal Fan    REVERSE BLOW FILTER  DUST COLLECTOR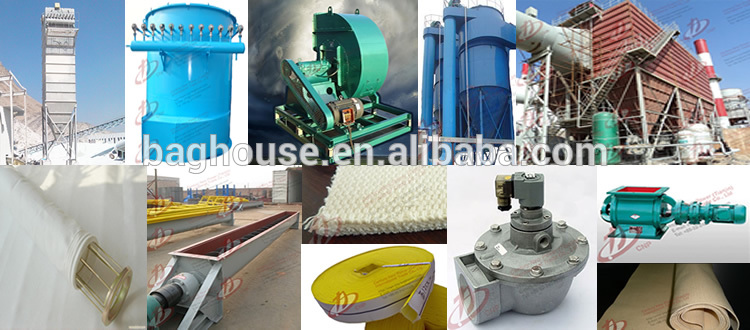 FILTER BAG / FILTER CAGE   Screw Conveyor      Airslide Fabric / HOSE   PULSE VALVE   UNLOADER   FILTER FELT
********************
We provide all kinds of standard export packing for cargo protection. The bag filter will be fixed on the container. The filter bag and cages will be fixed in corrugated box and steel framed structure.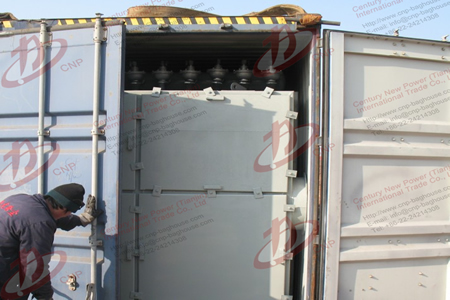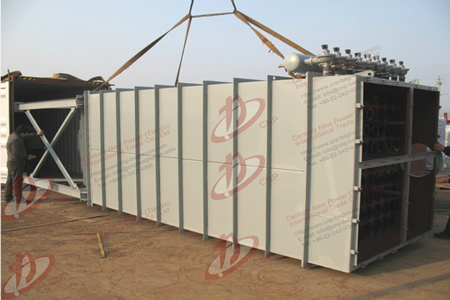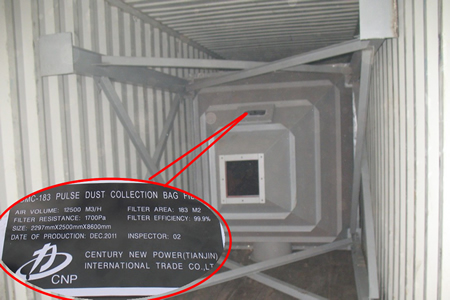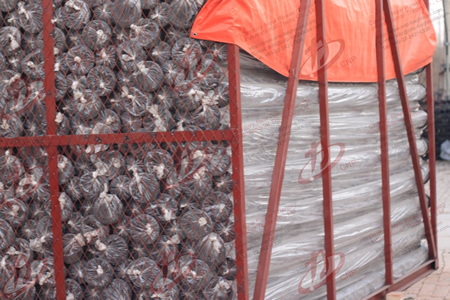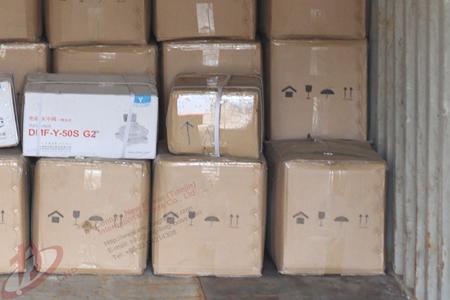 1. Enquiries quickly reply within 24 hours.
2. After-sales service, rapid response, the engineer installation guide. The feedback problems will be replied within 24 hours. We can arrange professional engineers arrived at equipment location within 48 working hours for problem solved.
3. The dust collector design according to the specific condition of dust removal technology. The wind network project design for all system. To be the optimal structure design.
4. The lowest equipment price whole network in alibaba  Welcome to rate of the price. If our price is higher, we will return twice of our quoted price difference to you. Please prompt before sign the contract with us. Due to our good faith principle. 
5. The bag filter equipment over 20 years working life.
6. Associated with equipment spare parts, ensure the replacement parts within 20 years.
7. If accessories stop production or update, to ensure that the replacement parts can be normal use, and keep noticed one year before the spare parts stop production.
8. Ensure easy operation and absolutely no worries about future
CNP Co., Ltd. was founded in 2008, specializes in the field of air pollution control and bag filter, Including engineering design, planning, consulting, equipment research and development, manufacturing, sales, installation and commissioning, as well as production and services.
With national environmental design qualification and qualification certificate of foreign contracted projects, as well as certification of the IS09001, IS014001 and IS018001. Now we have become a much respected users-concerned PM2.5 dust control and industrial de-dusting solutions provider. We do contracting business of municipal solid waste incineration flue gas treatment system, electromechanical integration of environmental protection, total contracting capabilities of new technologies.

Since Five years ago, CNP has always regarded as our responsibility as to "Purify the atmosphere and benefit mankind", adhered to scientific and technological innovation and introduction, digestion and development. So far, we have developed more than 30 sets of series over 400 kinds of specifications of bag filter, successfully undertake and complete total contracting of a variety of types of large, medium-sized dust-removal, desulfurization project.
Achieve an annual output of dust filter area of one million square meters. Products are sold domestically and also exported to nearly 20 countries and regions, including Japan,Korea, Singapore , Australia, USA,Brazil, Russia, Portugal,India, Vietnam , Bangladesh. Products are widely used in metallurgy,boiler,waste incineration , nonferrous metals, building materials, food,light industry, chemical industry, machinery casting,electronics industries and so on.
Based on the high starting point, CNO Co., Ltd., with a positive and upward pioneering spirit, will further create brilliancy as to technological innovation, intellectual property rights and independent brand strategy.
Summary of Information Requested
It is important to us that we find out what is important to you, and offer the most effective solution for your specific dust collector needs. 
To accomplish that, we will need to know as much of the following information from you as possible.
How much CFM will be needed for the Baghouse Dust Collector?
What type of material will you be collecting?  and how much dust do you usually dispose of in a day?
What is the bulk density of the material?
Approximately what air velocity (FPM) are you looking for?
Do you have an Air-to-Cloth Ratio in mind?
What is the Air Temperature projected at the inlet duct?

Is the material explosive?  If so, do you need a spark detection system, explosion vent, or sprinkler system?

How many pick-up points will there be?

What is the static pressure you are projecting for the system?

Are you wanting us to supply the Inlet Duct, Pick-Up Hoods, Installation, or Fan?

Do you want a Rotary Valve or Double Dump Valve, and is a screw conveyor required?

What are the height and size requirements, if applicable?

Do you have a specific filter bag material and construction that you are looking for?
Contact us if you need more details on Cyclone Separator Price. We are ready to answer your questions on packaging, logistics, certification or any other aspects about Asphalt Plant Bag Filter、Revolving Reverse Blow Dust Collector. If these products fail to match your need, please contact us and we would like to provide relevant information.
Product Categories : Industrial Dust Collector > Cyclone Dust Collector